Chennai: Metro travels long distance, has miles to go
U Tejonmayam
| TNN | Feb 15, 2021, 09:58 IST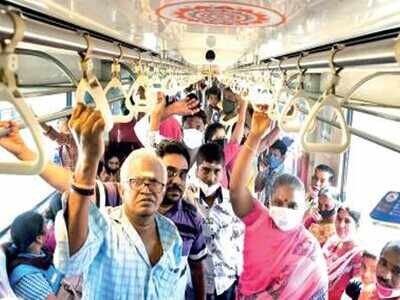 People take a ride on a metro train on the phase-1 extension
When the first train whooshed past north Chennai localities on Sunday morning giving passengers a bird's eye view of colourful single storey houses against the backdrop of the calm blue sea, a group of elderly men clad in white dhoti gave a standing ovation at Washermenpet metro station. They were not party workers cheering for their political leader but retired doctors and engineers from north Chennai expressing their gratitude for the family members of Dr S Jayachandran of Old Washermenpet, popularly known as 'Erandu Rubai Doctor' (two rupee doctor) who successfully spearheaded a campaign in 2008 to build a metro rail line in North Chennai.
"We held many protests including and met three different railway ministers over the years requesting for metro rail connectivity. All our struggles have paid off," said Dr C Veni, retired medical superintendent of MMC, and wife of Dr Jayachandran, who led the protest through North Chennai People's Rights Federation.
"I wish my husband was alive to see this day."
People, who travel by MTC buses on the congested Tiruvottiyur High Road for 45minutes from Tiruvottiyur to Washermenpet, now have a choice of travelling the same distance in metro trains in less than 15 minutes.
Soon after the grand opening launched by Prime Minister Narendra Modi, the mood turned festive at all the stations as residents queued up to take a free joyride. Many residents from other parts of the city boarded the trains to enjoy the elevated view of the otherwise congested part of the city.
A group of young boys were awed at the automatic fare collection gates, which they had only seen in the movies, while the elderly stood by the escalators wondering how to use it. A woman, who was at Washermenpet metro station to take home the balloons put up, began instructing passengers on how to step on an escalator.
"You should not place your feet on the yellow line. That's where it folds and becomes a step," she was heard explaining.
For CMRL officials, however, the job is not over. Not all entry/ exit points of stations like Toll Gate were ready and the elevated station at Thiruvottiyur Theradi was still under construction. "We will get them ready as early as possible," an official said.
During the inauguration of the line, PM Modi said the scheme was completed on schedule despite the global pandemic. "This is in line with the boost to Aatmanirbhar Bharat… The focus on urban transport will boost ease of living for citizens here," he said.
Chennai: Metro travels long distance, has miles to go | Chennai News - Times of India (indiatimes.com)