Half of Chennai has no stormwater drains
Komal Gautham
/ TNN / Updated: Nov 15, 2021, 07:56 IST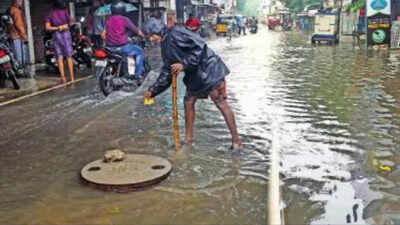 A civic worker clears a drain near T Nagar
CHENNAI:
Greater Chennai Corporation
maintains 33,374 interior roads stretching over 5,525 km and 471 bus route roads over 387 km, but its storm water drain network extends to just 2,058km (1,000km of this came up in the past five years) which is less than 50 per cent.
Even if the to-be-constructed
Kosasthalaiyar
basin project is added, it will only be about 2,500km length drains.
It is true drains can't be laid on interior roads that are narrow, but these roads don't even have rain water harvesting structures or silt pits, inspections showed. The sewage system saves the city during heavy rain, but pipelines and pumping stations are often unable to handle the high quantity of rainwater. Every monsoon, complaints of sewage and water mixed with sewage stagnating emanate from Murugesan Street in Kodambakkam, Mandaveli's Thiruvallupet and Mylapore's Sivasamy Salai among others.
"Of the 15 lakh houses in the city, only 8 lakh have sewage connections. Which means, rest of the city is letting sewage into storm water drains. In locations where both drains and sewage pipelines are available, the pumping stations stop working due to heavy load," said a corporation engineer.
During the recent spell of heavy rain, rains worked only in areas where disposal points were closer to water bodies and had the right gradient as in Villivakkam's SIDCO Nagar and
Kolathur
's GKN Colony.
Activists and experts say the storm water drain network worked only near the disposal points. Jayaram Venkatesan, convenor of anti-graft organization
Arappor Iyakkam
, said storm water drains in low-lying areas such as Pulianthope, Demellows Road and Dr Besant Road didn't work. "On Dr Besant Road, 2.5 crore was spent to construct drains. But the water remained stagnant and didn't flow even though Buckingham Canal was just a kilometre away...," he said.
At
Vijaya Nagar
in Velachery 13th Main Road is completely filled with sewage after the water has drained. "We are now worried about spread of diseases and mosquito breeding," said one resident. Even in posh Poes Garden, manholes on many streets were opened to drain out excess water.
A retired Metrowater official said that from 2018 to 2020, water stagnation was minimal because most rainwater was pumped into stations and let into canals. "There needs to be a better solution as pumping stations are designed only for raw sewage and not rainwater."
Half of Chennai has no stormwater drains | Chennai News - Times of India (indiatimes.com)