Telangana: People caught in relentless cycle of flood, evacuate, repeat
TNN / Updated: Jul 29, 2022, 14:28 IST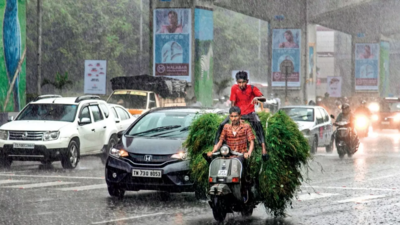 Motorists experience heavy rain in the city
HYDERABAD: The over 1,500 residents evacuated from Musi catchment areas are once again looking at severe property loss after the latest floods.
While most have returned home after the water receded on Thursday, quite a few families are still living in community halls and shelters as they have nowhere to go.
Those living in tenements under the Muslim Jung Pul said that since 2020 it was the third time that all their belonging were either damaged or lost. Currently, there are around 100 residing at Arundhati Bhavan, a community hall near Chudi Bazaar.
"We were alerted by police three days ago and my family came to the community hall with nothing but our bedsheets. Everything that we had has been washed away. The water still hasn't receded and once again we must build things from scratch," said Ramanjaneyulu (27), a construction supervisor hailing from Kurnool, who has to now find a roof for his wife and three children.
While Yadamma (67), who also lost everything, said through the tears: "We have already suffered so much in the rains during the last two years. It feels like we are building things back only for it to collapse again."
The Greater Hyderabad Municipal Corporation (GHMC) officials are providing basic amenities such as three meals a day and garments to the affected families in shelters and community halls across the city.
The situation is pretty much the same in Ambedkar Bhavan, Ayyappa Society and even outside GHMC limits in areas such as Bachupally and Nizampet which have been affected by the heavy inflows into Musi.
"We have reached out to the affected families and made arrangements in various community halls. Most have already returned to their homes after water levels came down. The remaining will return in another day or two," a senior GHMC official told TOI.
Telangana: People caught in relentless cycle of flood, evacuate, repeat | Hyderabad News - Times of India (indiatimes.com)