Kolkata: Mobile units to repair battered roads at night
Saikat Ray
/ TNN / Updated: Sep 16, 2022, 11:10 IST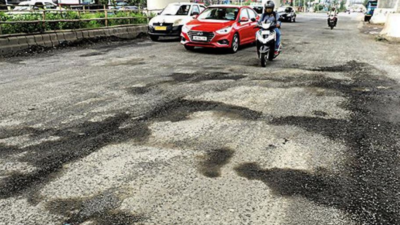 A cratered stretch of EM Bypass poses life risk to motorists and bikers
KOLKATA: The KMC roads department will start using its mobile road repairing units at night to do patchwork on the battered stretches of roads in the city ahead of Durga Puja. Two such vans will do the rounds in various parts of north-east and south Kolkata and take instant measures to fill the potholes.
The decision to use the mobile vans was taken along with the regular patchwork drive due to the loss of time owing to incessant rains. According to a KMC roads department, the KMC roads department workers are working overtime to meet the September 19 deadline.
"We were almost on the verge of the completion of the puja road repair drive when our endeavour suffered a setback due to nagging rains. Now we need to wrap up the drive by early next week by engaging more manpower at night," said a civic official.
Replying to a query from councillor Ellora Saha who expressed concern over the delay in repairing of roads before the pujas, the member, mayor-in-council overseeing the KMC roads department, Avijit Mukherjee, said the civic body is trying its best to meet the puja deadline. Saha also expressed her concern over the non-availability of hot-mix materials that are required to fill the potholes and craters. However, the mayor said there is no dearth of the material and the civic body will go the extra mile to ensure that all major roads are taken care of before the festival.
Apart from engaging the road repair gangs across the city to spot the stretches of the roads, which have developed potholes due to recent rains, the civic body will keep a gang for taking up the road repair work during puja. "We will need to keep ready a road repair gang, which will take care of the roads that may suffer subsidence due to leakage in the underground water pipelines during the puja days," said the MMiC roads.
Kolkata: Mobile units to repair battered roads at night | Kolkata News - Times of India (indiatimes.com)