Nashik Municipal Corporation prepares plan to reduce Godavari pollution
Tushar Pawar
| TNN | Updated: Dec 5, 2019, 8:09 IST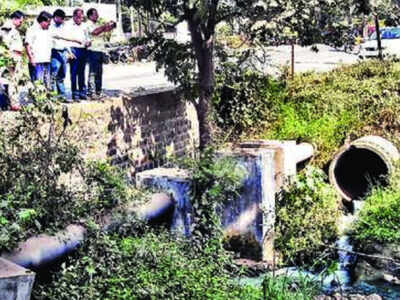 Two-day joint inspection conducted by NMC and MPCB officials
NASHIK: The
Nashik Municipal Corporation
(NMC) has prepared a two-pronged strategy to tackle the problem of
pollution
in river
Godavari
.
The plan was prepared by the civic body after a two-day joint inspection conducted by NMC and Maharashtra Pollution Control Board (MPCB) officials recently.
According to an NMC official, during the joint survey, the team found that effluents were being directly released into the nullahs at some locations connected with the river leading to pollution.
The NMC has decided to close the direct release of effluents into the nullahs and they are to be connected to sewer lines that are connected to the sewage treatment plants (STPs).
Moreover, some residential buildings have also connected their drainage to storm water lines instead of sewer lines. As a result, effluents are entering the river directly. Now the NMC has also started a survey to identify such buildings or properties and fine them.
"There are around six-seven spots where we found effluents being released into the nullahs during the recent survey. We have already started working on stopping the release of effluent into nullahs. We will connect the effluent released into nullah to sewer lines," the official said.
"During the survey, we also found some drainage lines connected to storm water lines, instead of sewer lines. Hence, effluent is directly reaching the river. We have decided to impose penalty on those residents who have connected their drainage lines to storm water lines," he added.
The official said the inspection of storm water lines has already begun to find out drainage lines connected to storm water lines. "We have already appealed to erring residents to remove such connections," he said.
Officials from the MPCB, NMC, the Maharashtra Industrial Development Corporation (MIDC) along with the petitioners in the
Godavari pollution
case had conducted the survey in industrial estates, Satpur and Ambad, nullahs and STPs across the city.
"Samples collected from the sites have been sent to the lab for testing by the MPCB," the official said.
https://timesofindia.indiatimes.com/...w/72375123.cms