MIDC keen to levy & collect property tax in industrial areas under civic limits
Tushar Pawar
| TNN | Updated: Jan 24, 2020, 13:02 IST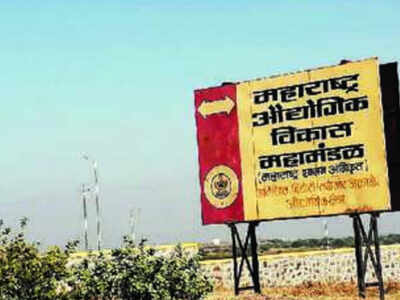 Two industrial estates of MIDC, Satpur and Ambad, are located in the limits of the NMC
NASHIK: The Maharashtra Industrial Development Corporation (
MIDC
) is keen to levy and collect
property tax
in industrial areas that falls under the jurisdiction of municipal corporations across the state and has written to the state government, seeking its nod.
Currently, the MIDC is levying and collecting 50% of the property tax and the remaining 50% is given to the respective gram panchayats. The MIDC had issued a circular in this regard in December last year following a government resolution (GR) issued in September 2019.
The MIDC wants the same model to be replicated for industries located in the limits of municipal corporations like Nashik Municipal Corporation (
NMC
). MIDC CEO P Anbalagan, who was in Nashik on Wednesday, said at present such taxes are being levied and collected by the local civic bodies in rural areas.
"We are against recovery of property tax from industries by the Nashik Municipal Corporation (NMC). We want the property tax to be collected by the MIDC from industries in municipal corporation limits too," Anbalagan said, adding they have already sent a proposal to the state government for approval.
Anbalagan was in the city for a meeting with industrial associations from five districts of
Nashik division
. Two industrial estates of MIDC, Satpur and Ambad, are located in the limits of the NMC.
The NMC collects the property tax from the industries in these two estates and in return provides road and look after maintenance of streetlights. But the agency wants more funds to create and maintain infrastructure in the industrial areas which could be garnered from
collection
of property taxes.
During a meeting, NIMA presidents Shashikant Jadhav had said that most of the roads in Satpur and Ambad MIDC areas have been handed over to the NMC for maintenance work. "Some roads in these two industrial areas are yet to be handed over to the NMC. Hence, the civic body is not developing these roads," he said.
Anbalagan, however, refused handing over of roads to the NMC. "I am against handing over of roads to the NMC. We may give an NOC to the NMC for developing the roads in both the industrial estates," he said.
New investment proposals in Nandurbar
Anbalagan on Wednesday said that two large industries have shown interests to invest around Rs 1,000 in Nandurbar. This will generate over 2,500 jobs. These industries are from textile and food processing sectors.
"Apart from Nandurbar, three other industries are also making investment over Rs 1,000 crore in Supa MIDC areas in Ahmednagar district. The land has already been given to these industries," he said.
https://timesofindia.indiatimes.com/...w/73562280.cms