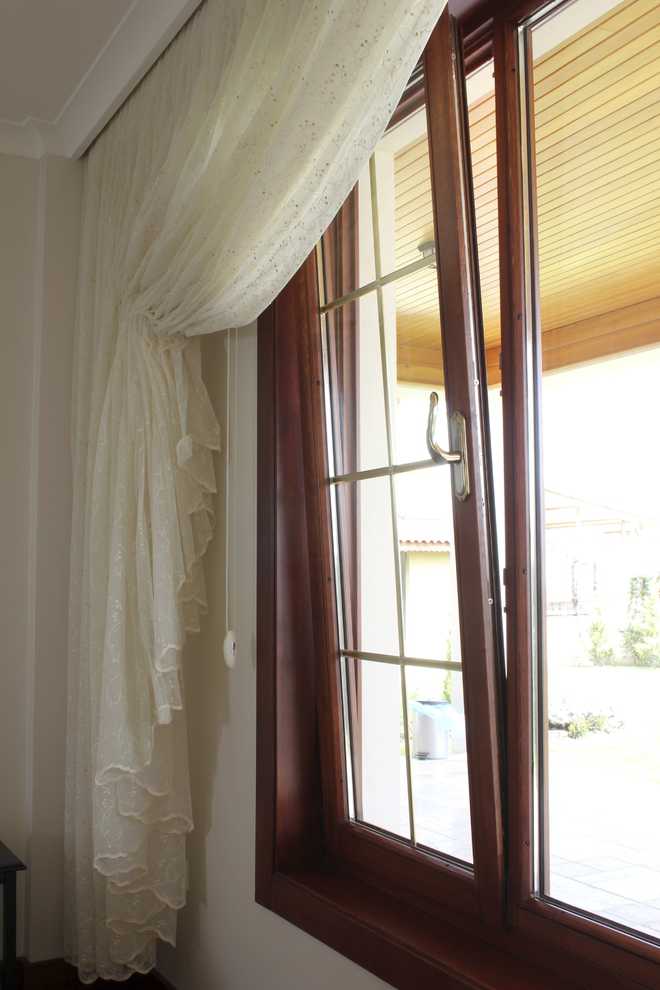 Last few years have seen people looking for materials other than wood for use in the doors and windows of their houses. One material that has been able to catch and hold their attention is uPVC. Aggressive publicity in print and electronic media by uPVC window suppliers over the last few years also has its effect. Most of the luxury apartments and office complexes now choose uPVC windows to freeze their window specifications and feel relaxed. Let's have a look at different aspects of uPVC windows:
What is UPVC? UPVC is in fact written as uPVC. uPVC means un-plasticised poly vinyl chloride. While PVC is a flexible material, uPVC is rigid. Certain softeners are added to PVC to make it soft and flexible. When no such materials are added to PVC, it is called un-plasticised PVC and noted as uPVC. PVC is used in manufacturing of pipes while uPVC is used in manufacturing of both pipes as well as window frames. However, neither PVC nor uPVC is used in drinking water pipes. For drinking water, cPVC pipes are used. cPVC means chlorinated PVC.
Why uPVC windows? Though good quality wood is the unanimous choice of material for doors and windows of the house, yet the problems of termite and warping of shutters during rainy season have made people check out other options. Time taken by the carpenter in fabrication and installation of doors and windows is another factor. In most cases, carpenter gang is the last one to leave the house during its construction and sometimes, the house builder has to virtually force the carpenters out. Non-availability of good quality wood, spiraling cost of wood and confusion caused by the availability of too many varieties of wood making it difficult to select genuine material, has further tempted people to look for other materials. There is so much resemblance in different varieties of wood that sometimes even a carpenter develops doubt over the right quality and in most cases, the suppliers' word and guarantee are to be relied upon. The trend to look for 'ready-to-use' materials that cause minimum hassles to the house builder is another strong factor. All these factors have led to development of a significant market for uPVC windows.
Modification of uPVC: Window manufacturers modify uPVC by adding certain additives to it. These additives are UV stabiliser, heat and light stabiliser and extreme condition modifier. UV stabiliser helps uPVC windows in resisting the effect of UV radiation. As a result, the windows don't fade or whither away even after remaining under sustained exposure to UV radiation. Extreme weather condition modifier saves the windows from becoming brittle under extremely low temperatures. Heat and light stabiliser improves the performance of uPVC windows by making them stable under heat and light.
Good properties: uPVC windows have good sound insulation properties. Their thermal insulation properties are also good. These are fire resistant, UV resistant and have a life span of about 25 years. These can be easily cleaned with soap solution. There is no fear of termite attack. These are normally white in colour but can be produced in certain wood colours also. The manufacturer has to certify that the uPVC windows provided by him are air tight and water tight.
Window section: Like wooden windows, uPVC windows also have a frame and a movable part called sash. The frame is secured to the wall and the sash moves to allow the opening and closing of the window. Gaskets are inserted in the frame and the sash to increase heat and sound insulation. Glazing beads are inserted into the sash to hold the glass panes when these are fixed in the windows. While the frame and sash are made of uPVC, steel reinforcement is integrated in them to increase the strength of the windows. The window members are fusion welded.
Types of windows: uPVC windows are either fixed, slider or casement type. In the fixed type of windows, the glass panes are inserted directly into the window frames and there is no movable part. In the slider type windows, the sash can be slid towards one side to open the window. In the casement type windows, the sash can be opened outwardly or inwardly. The windows can be tilt type also. In this type of windows, the sash can be tilted to open the window for ventilation of the room. Further, the tilt type windows can be top hung or bottom hung both. Manufacturers can today supply windows as big as 20 ft wide x 10 ft heigh with single sash up to 4 ft wide.
Door sill problem: uPVC windows are successful in replacing wooden windows to a large extent but create problem when the house builder wants to provide doors too in uPVC to have a uniform look of all doors and windows. The problem is that in uPVC doors, the bottom member of the frame can't be omitted. In such a case, one has to step over the bottom member while passing through a door. Such an arrangement gives very odd feeling. Moreover, any luggage or items taken inside or outside of the house can't be slid through. One has to pick these up and carry them over the bottom member of the doorway.
Colour option: Mostly uPVC windows are provided in white. However, if doors are provided in wood then a combination of white windows and wooden doors looks odd. In such cases, wood colours like walnut, mahogany, golden oak can be chosen for uPVC windows. The manufacturers charge extra for coloured uPVC windows. If doors are provided in aluminum, then windows too can be produced in aluminum colour. Not a very large range of wooden colours is available in uPVC windows.
Hardware items: uPVC windows have the hardware items fixed to them and one need not buy the hardware items separately and get them fixed on the windows. The hardware items include handles, locks, lifters and sliding handles.
Mesh provision: In India, we wish to provide windows having wire mesh shutters in addition to glass pane shutters. Windows with mesh are possible in uPVC and mostly, nylon mesh is provided in such windows. Care has to be taken in uPVC windows that no hand pressure is applied to the window mesh otherwise it comes out of the sash frame and the manufacturer has to be asked to send technicians to fix it again.
Glazing work: Any type of glass panes, may be toughened or tinted or laminated or tempered can be provided in uPVC windows. Even double glazing with air space in between can be provided for heat and sound insulation. The glass panes are securely held by glazing beads supplied with the windows.
Tests: uPVC windows are supposed to undergo many tests before these are passed for installation at site. Sound insulation test, fire resistance test, salt spray tests, density, hardness, surface finish, color fastness and tensile strength test are a few to mention. If an uPVC window starts giving problems during its use, it is a headache to get it changed or rectified. Therefore, manufacturer's guarantee and test certificate should be secured along with the bills while making payment for uPVC windows.
The cost factor: Fixed glass and fixed mesh windows are in the range of Rs400 per sq. ft. Sliding type windows cost about Rs800 per sq ft. Casement type openable or top hung and bottom hung windows cost more. Prices may vary, depending on the size. Cost of glass, mesh, their fixing in position, erection of windows in walls, cost of hardware items like handles, locks etc are all included in the window rates. The type of glass, whether plain or tinted or toughened and its thickness also matter in deciding the rate. The main advantage to the house builder is that by placing order for uPVC windows, he becomes free of buying glass, wire mesh, wood, hardware items for windows and he has not to hire a carpenter for this job.
Size measurement of site
uPVC windows are not fixed during the raising of masonry but afterwards when the masonry and plaster work is completed. There fixing at site is done with anchor fasteners and doesn't cause any damage to the plaster work. The gap between the masonry and window frame, if any, is sealed with silicon sealants. On completion of structural work, the technicians note each and every window size as per actual position at site. While taking the sizes, they also note down whether a window has to be sliding type, fixed type or casement type or partly fixed, partly open-able. Whether to provide glazing or mesh is also decided at this juncture.
A fresh window of options
A fresh window of options