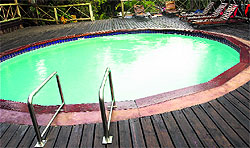 Relaxing in a pool is the ultimate summer dream. For most people, swimming pools conjure the image of fun, relaxation, and family time. However, logistics and hygiene concerns keep most of us away from public swimming pools. Fortunately, space is no longer a constraint for creating a paradise in our own backyards. The new-age splash pools are ideal to cool off, whether one owns a bungalow or an apartment.
Be it a large area or a small house, a water body gives a soothing feeling and allows one to relax and take a break from the tiring heat.
Pools are designed for various purposes, some for entertainment others for exercise. In fact, there are many who develop these for aesthetic beauty as well. Therefore, it is extremely important to define the objective prior to designing a pool. One should also one consider the architecture , style and landscape of the home before deciding on the type of pool in order to ensure that the pool blends with its surroundings.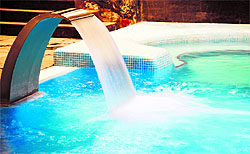 AQUA EDGE: With water flowing down a thin edge, the infinity pools are among the most preferred home pools these days
Once the purpose is defined, it becomes easier to select from the wide range of materials available for constructing the pool. From colourful fiber-optic lighting, specialty water features to heat-resistant decking and saltwater systems, the possibilities are endless. Each option offers unique features and can be chosen as per one's requirement and budget.
Fiber-optic lighting pools are best suited for entertainment whereas saltwater system is generally used in pools designed for exercise and physical fitness. Saltwater system uses electrolysis to convert salt into chlorine is extremely popular these days, offering an eco-friendly alternative to the traditional chlorine.
The latest trend in splash pools are infinity edge pools, where the water looks like it just drops off into thin air. It is accomplished by pumping water over a thin edge into a catch basin or gutter. The water is then collected in the basin and pumped back into the pool through the filter system.
With a little innovation and experimentation, the design can be modified as per requirement and space availability. One such example is "spools" — a combination spa/pool — or plunge pools.
Another option is to add jets in the pool so that one can swim against the current for exercise even in a small space.
Then there are lagoon-style pools which often use free-form shapes, rocks and water features to reflect a natural landscape.
Some of the most popular ideas in pools now involve the lack of pool walls — most notably playful and pretty beach entries, shallow and comfortable wet decks and dramatic vanishing edges. The beach entry is just what it sounds like — a gently sloping entrance to the pool that mimics a beach in looks as well as feel.
As far as the design element is concerned there are a number of ways to increase visual impact of a splash pool. Those wishing to make a striking statement can finish their pools with a range of colours and shimmering surfaces to truly stand out from the crowd.
Lights, too, can add a dramatic dimension to a pool, whilst swimming and entertaining.
These days, there is a wide choice, from fiber-optics, which can create a soothing glow on your pool, to LED lights, which are energy efficient and come in a range of colours. Selection can be made on the basis of available space and budget.
There also are numerous options to beat the scorching heat. Splash pools are the most popular amongst them. One can rejuvenate and re-energise in them and at the same time keep physically fit by doing water-based exercises.
So, no matter which style of pool you choose, get ready to 'dive in' this summer!
Stylish splash