Madan Gupta Spatu
Vaastu Shastra is an ancient Indian architectural science that evolved some 5,000 years ago with roots in the sacred Vedic texts. Its principles of building planning and construction seek to bring about an ideal and harmonious balance between humans and the environment. And as a balanced existence generally paves the way for a happy, fulfilled one, following the principles of Vaastu Shastra can result in a life well-lived.
In doing Vaastu of any place — home, workplace, building, factory, land or plot we try to harmonise the place with respect to the five basic elements called as Panchbhoota namely air, water, fire, earth and space. Here are some broad principles that should be kept in mind by house owners for a balanced, healthy and happy life:
Selecting a plot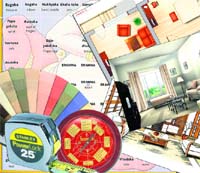 Plots should be square or rectangular in shape – never triangular, circular, hexagonal, elliptical or zig-zag — and preferably sloping towards north, east and north-east.The soil should not be sandy, infertile or marshy. The ground level should be higher in south and west rather than north and east. Plots facing north or east are better than those facing south or west. A canal, a lake, river, nallah, a big well or pond should be in north or east. Heavy construction or mountains should be in west or south of the plot There should not be any big tree in north or east of the plot.
l

There should not be any pit or well in south or west direction.


l

All four corners should be at 90 degree (set square). If only north east is extended i.e. if it is less than 90 degree, it will do.


l

All rain water should ideally flow from south to north and west to east.


l

South west should be highest and north east should be the lowest in level. If all the corners are not at 90 degres then we should correct it before starting the construction.


l

If the deadend of a road is coming in the plot then it should be taken care of. There should not be any hills or mountains in east or north side of your plot.


l

At the time of purchasing the adjacent plot purchase only in east, north or north-east plots. Never purchase adjacent plot in south or west or accept if even if offered for free.
Tips for construction of house


l

The central space of the home, known as the Brahmasthan, should remain vacant. In ancient India and in many existing old palaces and havelis, rooms were built around a central courtyard. The purpose of this central courtyard is to create a breathing space inside the home and to attract beneficial cosmic energies.


l

Kitchen should be in the south-east, the dining room in the west, the living room and the master bedroom in the south-west, the guest bedroom in the north-west, the bath room in the East or the North, the prayer room in the North-East and so also the well and water supply.Sleep with your head towards the east or the south.
Avoid clutter in your home. Keep only those things that are useful, aesthetically pleasing or personally significant. Doors and windows should face east. This ensures the maximum benefit of morning sunlight, which, as we all know, contains the life-sustaining Vitamin D. Limit the number of openings to the west and south as afternoon sunlight isn't as beneficial. Doors and windows should also allow for maximum natural ventilation and light.
The writer is a city-based Vaastu consultant
Source:The Tribune

Living with vaastu