Living with vaastu by
Madan Gupta Spatu
Right direction of marital bliss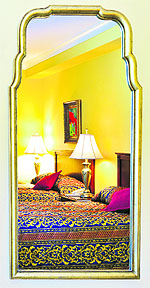 Mirrors facing the bed in a bedroom encourage infidelity. Larger the size of the mirror, more harmful it is to a marriage
Life becomes joyful and peaceful if your life partner is compatible and environment is congenial. Improper positioning of some items or direction may cause unpleasantness in married life. Vaastu principles can act as a catalyst in improving the marital life.
A proper balance, brings joy, smoothness, minimises problems in relationships etc. Balance the five elements (earth, water, fire, air and space) in your home because each of these five elements is associated with each direction.
Keep bedroom in the south-west of the house.
Avoid bedroom in south-east as this is a fire place. It may lead to the clashes between the couple.
Place bed in the southwest portion of the bedroom. Avoid placing bed in northern and eastern zone of the bedroom. It may cause mental stress and financial instability.
Keep head-side of the bed in south direction.
Use wooden bed instead of a metal bed. Metal beds are for hospitals only.
Always build square or rectangle bedrooms which bring peace and love in life. Avoid round shaped beds.
Paint walls in light shades like purple, green, light blue, rose pink. Avoid red colour in bedroom.
You can paint one wall in a dark shade and the one opposite it in a lighter one.
Place kitchen appliances/objects like gas and sink that represents fire and water respectively properly. You should place gas in south-east and water in north-east or north.
Keep money in the northern or eastern area of the house as it is an important part of life.
Do not use northeast bedroom in case you are newly-wed couple.
Never place the bed under a beam. It may cause bad effect on health.
Avoid mirror in married couple's bedroom. It may lead to quarrels between the couple.
Avoid computer and TV in bedroom as they will reflect like a mirror. If you place TV and computer in bedroom, cover these with a cloth at night.
Ensure that the under ground water tank is not in the south-west direction.
Avoid paintings that symbolise death, violence and negative aspects of life. Do not display photos of late parents in bedroom.
Growing creepers/climbers with support on the compound wall or a house wall are best avoided.
Instead of dry flowers keep fresh flowers by the side of bed.
You can keep gem tree or Kalp Vriksh with multi-coloured stones in bedroom.
Vaastu for love life suggests, placing lampshades with pastel coloured lighting in the south-west of the bedroom.
It's important to make sure that the northeastern corner of the bedroom is clutter free. . Floor plants, white flowers in the northern corner and red roses or purple flowers in the south-west corner assist in improving relationships.
Water bodies inside the house should always be placed as per the vaastu norms. Improper placement can lead to serious marital problems.
The writer is a Chandigarh-based Vaastu consultant. Readers can send their suggestions/queries at realestate@tribunemail.com.
Right direction of marital bliss