Certain components of the house have to be in steel only as no other material is suitable for them. These components are the Main Gate and the Window Grills. Steel has now extended its grip to the railings also. Most of the balcony railings being provided in the houses are in mild steel only. All these need to be strong and sturdy and therefore demand special attention during their fabrication and erection at site. Let's have a look at these components:
The main gates: The main gates being provided to the houses these days are either in mild steel or are a combination of mild steel, stainless steel, wood and glass panels. While the structural framework is of mild and stainless steel, wood and glass panels are fixed on the gates to make them attractive. Sometimes gates are fabricated entirely in stainless steel. Such gates demand special attention towards the quality of material and its welding.
Grills and toughened glass: Provision of grills in the windows of a house has always lent a sense of security to its inhabitants. Large sized windows are also being provided in the houses these days and the architects often advise against the provision of grills in them under the plea that the grills will spoil the splendor and beauty of large paneled windows. In such cases, one should opt for toughened glass in the fixed glazing portion of the windows while grills should necessarily be provided in the window portions with open-able shutters.
Railings: The railings provided to the front and back balcony, upper floor verandahs and the terrace are a combination of mild steel, toughened glass, stainless steel and wood these days. Very few house builders opt for stone-jalli railing. Though it looks highly attractive, it is very costly and accumulates dust which is difficult to remove. Mild steel and stainless steel framework railings look very attractive when optimum glass and wood coverage is added to them. Provision of glass for the full height and length of railing should be avoided.
Ladder: The provision of a helical ladder in homes has become very common. This is more prevalent in small houses. Such houses have common walls with the adjacent houses and it is often not possible to accommodate a flight of stairs from the first floor to the terrace. Therefore, a helical ladder is accommodated on the front or back terrace. The ladder is kept helical to occupy minimum of terrace space. The ladder is fabricated in steel. It has a central, tubular tower which is embedded in the ground or roofing. The helical steps have rings at their inner ends which are welded to the tubular column at equal vertical intervals and along a helix.
Stainless steel: Stainless steel has different kinds like austenitic, super austenitic, ferritic etc. For gates and grills, austenitic steel is used. Though ferritic steel has better engineering properties than austenitic steel, it has lower corrosion resistance. Austenitic steel has its grades like 304, 316. 304 grade steel is good for use in gates, grills, railings etc. Weldable stainless steel has L suffixed to the grade of steel. Grades of weldable SS are 304 L, 316 L etc. Austenitic steel has 16 per cent or more chromium content that helps in avoiding rusting.
SS screws: Glass is fixed to the gates and railings by using stainless steel screws. SS screws of ¾"or 1" diameter are welded to the mild steel components of gates and railings. Special electrodes are required to weld stainless steel. Normally, the gates and railing are erected in position at site and glass and wood are fixed to them at a later stage to avoid damage during construction. Therefore, don't forget to collect the stainless steel bolts from the fabricator and store these safely for use at later stage.
Welding electrodes: The steel work fabricators are habitual of using low quality welding electrodes for welding work. They won't listen if you ask them to use a particular brand or quality of electrode. One should, therefore, insist on the use of good-quality electrodes at the time of assigning the job to the welder. It should be made clear that only the electrodes approved by you would be used for welding work. Look out for IS 814 marked electrodes only.
Further, these should be freshly purchased, with recent date of manufacture. Electrodes that have been lying in the open in welder's shop gain moisture from atmosphere and don't produce strong welds. Choose a reputed brand and further check the brand carefully as many duplicate electrodes with matching names are available in the market.
Welding finish: Ask the welder to do electric welding only. Gas welding doesn't produce good welds and should not be allowed. Also ask the welder to clean the steel parts of all dirt, rust or grease before welding it.
The size of weld depends on the thickness of members to be welded. When member thickness is 20 mm, weld size has to be minimum 6 mm. For 30 mm member thickness, weld size is 8 mm or more and so on.
Weight: Ask the fabricator to inform you as soon as the fabrication work in his workshop is completed. Visit his workshop and get the fabricated steel parts weighed in your position. This is important because you have to pay him at the agreed rate of Rs per kg for this weight. Once he shifts the fabricated items to site, it won't be possible to weigh them.
Painting: Once the fabricated parts are brought to site and successfully put in place, ask your painter to paint them with red oxide primer immediately. Otherwise the steel work will get rusted within a week's time.
Grill design
The grills chosen for the open-able portion of windows should mostly have vertical flats or square bars. The number of horizontal flats or bars should be kept as minimum as these flats invite dust which is difficult to clean on a daily basis. Floral designs should also be avoided. Simple grills having equally spaced vertical flats or bars with a horizontal member at top and another at bottom should be preferred.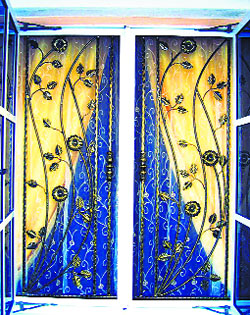 Floral grill designs should be avoided as these gather dust